Dining at the RimRock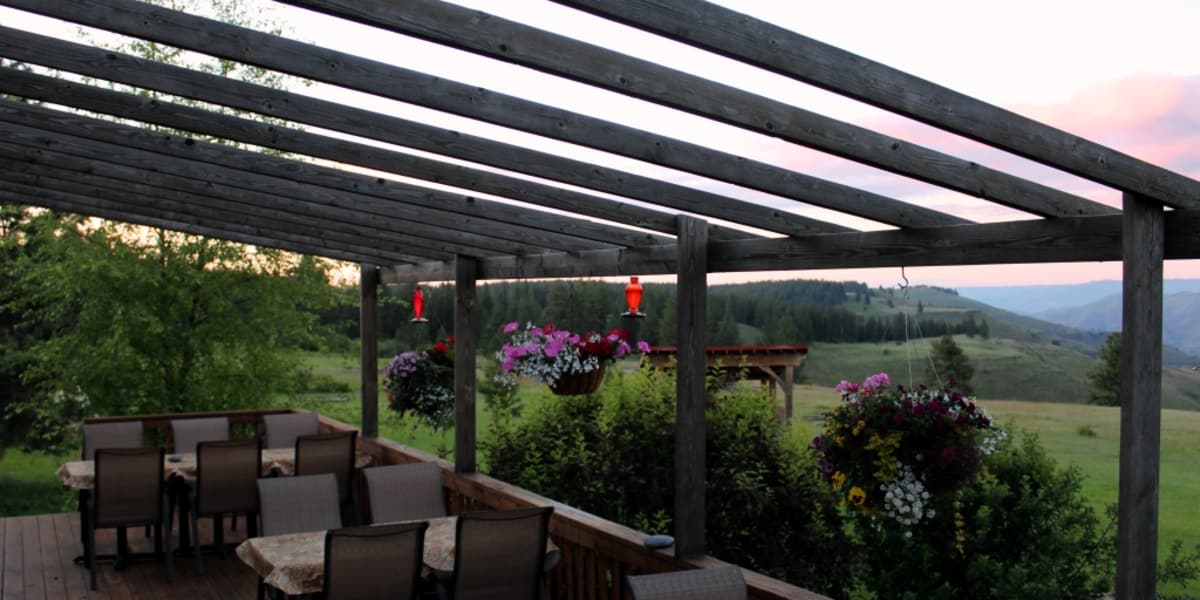 DINNER RESERVATION POLICY
We are a small country inn restaurant who also serves our guests who stay here. If you'd like to reserve for dinner, please note that we are located 30 minutes North of Enterprise. We take reservations seriously. Please arrive no earlier than 15 minutes prior to your reservation. Reservations are required at least one day prior. Sorry, we cannot accept same day reservations. To make a reservation, please call (541) 828-7769. We do not accept texts as this is a land line and we do not accept email reservations.
Breakfast
Complimentary for Lodging Guests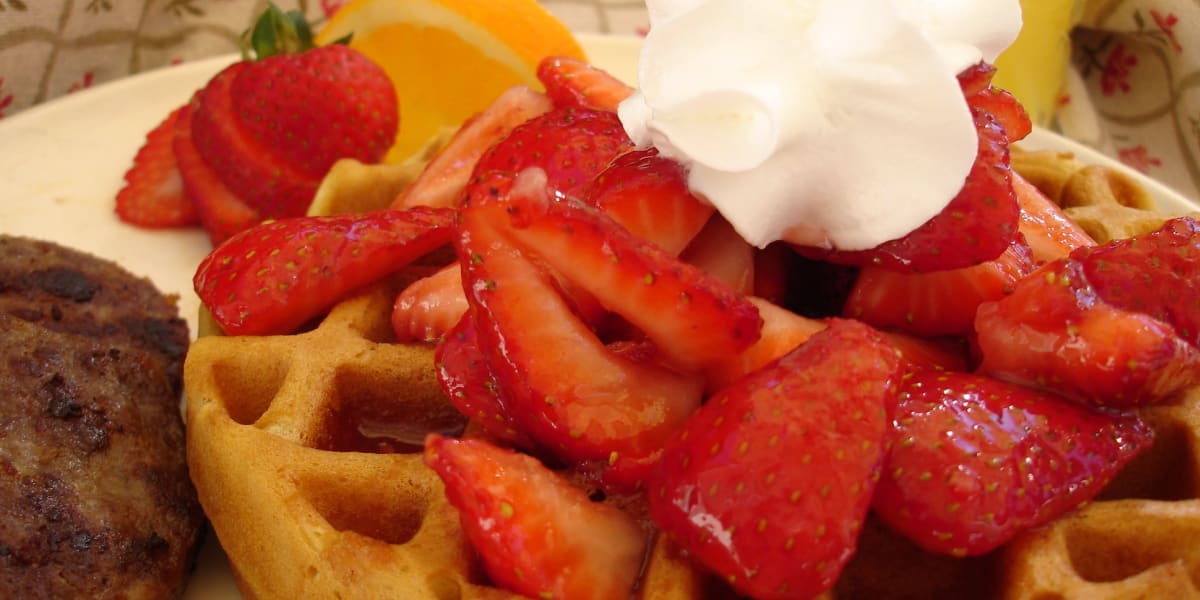 If you're a lodging guest, you'll look forward to breakfast. Watch the gorgeous sunrise, go back to bed, then wake up to a home cooked breakfast! Order what you want off the menu below. Hot coffee, various teas and even whipped-cream topped hot cocoa is all included in your stay.
NEW! The Health Nut
Delicious homecooked oatmeal, served warm with cinnamon, raisins and whole milk (on the side).

The Cowgirl
1 hot off the griddle pancake, 1 strip of bacon or sausage and 1 egg (fried or scrambled).
The Cowboy
2 hot off the griddle pancakes, 2 strips of bacon or sausage and 2 eggs (fried or scrambled).

The Lumberjack
2 eggs (fried or scrambled), 2 strips of bacon or sausage, country potatoes and toast (wheat or sourdough).

The Wagon Wheel
2 eggs (fried or scrambled), along with 2 strips of bacon and a Belgium Waffle. Includes country potatoes.
Mimosas available
Dinner
Enjoy Steak, Seafood & Specialty Salads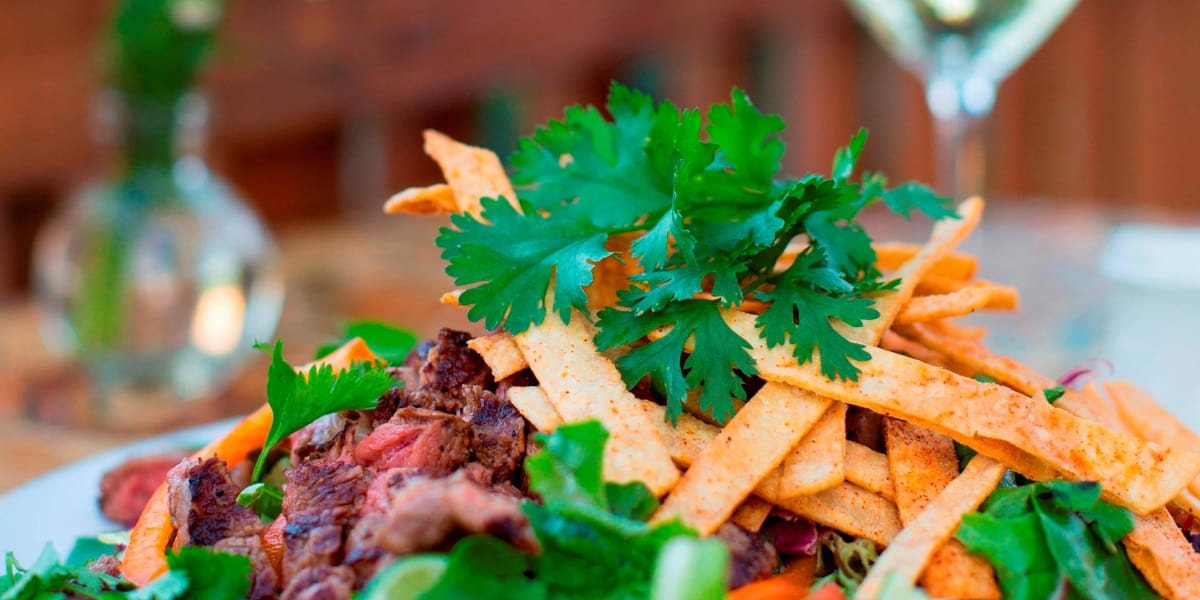 LAST DAY FOR DINNER RESERVATIONS TO THE PUBLIC, SUNDAY, AUGUST 18th.

DINNER HOURS DAILY 5pm to 7pm
Reservations Required

HEARTY SALADS
Asian Chicken Salad
An Asian infused combination of baby greens, chopped romaine and shredded cabbage. Includes mandarin oranges, pickled beets, chow mein noodles and toasted pecans. Topped with sliced grilled chicken breast, basted in a sesame soy ginger sauce. Served with our orange sesame ginger dressing or raspberry vinaigrette and a dinner roll.

Tequila Lime Steak Salad
A cowgirl's dream! A 6 oz. Ribeye Steak, grilled over hot flames with a tequila lime marinade, then sliced and set on hearty lettuce greens. Includes chopped tomatoes, sliced bell peppers, cilantro and fresh cut fried tortilla strips. Our special Tomatillo Ranch Dressing and a dinner roll complement this creation.
STEAK DINNER ENTREES
Steak entrees are served with seasoned baked potato (includes butter, sour cream, bacon bits and chives/green onion) or hand-cut French fries, seasonal vegetable and fresh baked dinner roll.
Cowboy Ribeye Steak Petite 8 oz.
Cowboy Ribeye Steak Full 12 oz.
Classic Surf & Turf 8 oz. Petite
Along with 4 Jumbo deep fried shrimp.

A split steak entrée and sides is available for an additional $8.
FISH SPECIALTIES
Captain's Basket
A combination of hand-breaded shrimp and cod filets deep fried to a golden perfection, with fries and coleslaw.
Includes tarter sauce, cocktail sauce and fry sauce.
DESSERTS
Top off your dinner with a delectable dessert like a piece of homemade pie or an old fashioned Root Beer Float.

WINE & BEER
We offer some of the best wines and microbrews in Northeast Oregon, including the popular Terminal Gravity beers. Our wine selections include some refreshing white and red wines from top winery regions such as Applegate Valley in Southern Oregon and Walla Walla, Washington.