January 6, 2019
Country Fried Chicken
By: Kim Carlston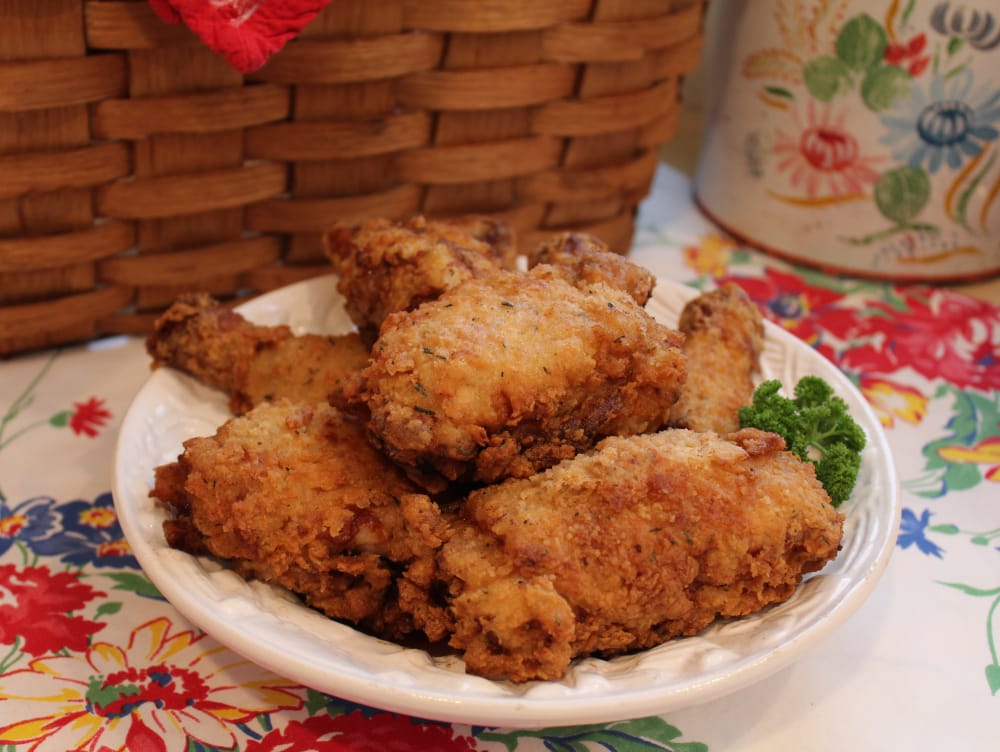 COUNTRY FRIED CHICKEN
Nothing tastes better than a Sunday dinner of good 'ole Country Fried Chicken. Served with hand-whipped mashed potatoes, country gravy and buttered corn. Keep in mind, this recipe includes marinating the chicken in buttermilk, which can be done overnight.

Prepare marinade below by mixing with a wire whisk.
Use large bowl or Cambro container

Chicken
4 Thighs
6 Drumsticks

Marinade
2 pints Buttermilk
1 Tbsp. Tabasco
1 Tbsp. Italian Seasoning
1 tsp. Salt or Seasoning Salt

When handling raw chicken, be sure to wash your hands before and after you handle it. Do not rinse chicken before or after the marinade process. Place the chicken into the marinade and make sure it's fully immersed. Cover and refrigerate at least 12 hours and up to 24 hours.

You'll need a cookie baking sheet with a wire rack. Prepare breading and begin to cover chicken fully with breading. Use tongs to help prevent build up on your hands. Place breaded chicken on wire rack. After all the chicken is fully breaded, place chicken into the refrigerator for at least 30 minutes. This allows the chicken and breading to dry out and adhere to the chicken while frying.
Breading
1 Cup Panko breadcrumbs
1 Cup All Purpose Flour
1 Tbsp. Dried Italian Seasonings
1 Tbsp. Montreal Seasoning
1 Tbsp. Lawry's Salt

Pre-Heat Oven to 325 degrees.

Fill a large pot with Canola or Vegetable Oil about half way up, or use Crisco. Heat oil on medium high heat to where the oil is nearly bubbling. With metal tongs, carefully place pieces of chicken into pot of oil so they begin to fry. Do not crowd chicken. After about 5 to 8 minutes, turn chicken piece over so it fries evenly. Fry to a deep golden brown.

Prepare a clean wire rack and cookie tray. Carefully place each piece of fried chicken on the rack and place in the oven while the other pieces of chicken are frying. Rarely does the frying of each chicken fully cook the inside. Baking it in the oven while you finish the other dishes allows for the chicken to fully cook, keeps it hot and the skin crispy. Bake at 325 degrees for 15 to 25 minutes or until thermometer reaches 165 degrees. Never eat chicken that is pink. It is still undercooked and can make one ill.