2018 Sky Calendar
"TO NEW MOONS, DARK SKIES AND COMETS"

New Moon
June 13
July 12
August 11
September 9

The best time to view the Milky Way is during New Moon or dates surrounding the New Moon. PLEASE NOTE: We can't guarantee you'll see the Milky Way during these dates. Skies may be cloudy, but otherwise, your chances are good.

Full Moon
June 27
July 27
August 26
September 24

Full Moons at the RimRock can be amazing! The moon rises east directly across the canyon for a breathtaking sight to see.

June 21
Summer Solstice
Longest Day of the Year

August 12 & 13
Perseid Meteor Showers

September 23
Fall Equinox
Stay With Us!
About Us
A Country Inn on the Edge!
JOIN US at the historic RimRock Inn and experience unforgettable lodging right on the edge of Joseph Creek Canyon. Our guests often mistake us for a national park - our location and our see-forever views are simply unbelievable.
We offer indoor and outdoor accommodations: 4 fully outfitted, rustically elegant tipis, two adorably refurbished vintage trailers, and one beautiful indoor suite. This is where rough meets romantic and grit meets glamour!
GET OFF THE GRID (and we mean REALLY off the grid) experiencing unsurpassed beauty and history where Chief Joseph and his band of Nez Perce walked. We are 35 miles from the nearest gas station and grocery store. The tipis have no electricity, cell phone service or TV, yet have all the comforts of home! For those who want electricity and to be 100% rain proof, our vintage trailers provide comfortable accommodations. Prefer to be inside? Our indoor suite is perfect for an elderly couple or those who simply want a luxurious indoor room with a restroom close by.
TAKE A COUNTRY DRIVE to see more wildlife, wilderness, rivers and even an old nearby ghost town which features a hundred year old school house!
RELAX AND RENEW YOUR WONDER with a short hike to the south where you can view the Zumwalt Prairie and the Wallowa Mountain range from what seems like the top of the world! Or just simply relax in your Adirondack chair outside your tipi while gazing at the beautiful view and soaking up the warm sun.
DINE AND LINGER over a home-cooked country meal, including a delicious full breakfast, included in your stay. Our specialties are burgers, fries, ribeye steak and everything else that falls into the cowboy cuisine category, including the finest Northwest wines and microbrews.
BE A KID AGAIN Swing on the large tree swing, fly a kite, or ride our beach cruiser bikes on the pathway overlooking the canyon. Play board games with your loved ones or enjoy a good book.
WHAT ARE YOU WAITING FOR? Book now and we'll see you on the edge this summer at the RimRock Inn.
Stay With Us!
Location
35 Miles North of Enterprise
83471 Lewiston Highway, Enterprise, Oregon
Stay With Us!
Getting Here
Not All Who Wander Are Lost...
DIRECTIONS
One reason the RimRock is so special is that we are removed from the hustle and bustle of civilization yet still so easy to get to. Come join us off the beaten path!
By Car
Please note, putting our address (83471 Lewiston Highway - Enterprise, OR) into your GPS or Mapping program will get you here!
From Enterprise, Oregon (all paved):
Go North on Oregon Highway 3 (NW 1st St. in Enterprise) for 34 miles. We are located on the right at milepost 10, about 3 miles past the Joseph Canyon Overlook and ¼ mile South of the Flora Junction.
From Lewiston/Clarkston Valley (all paved):
Go South out of Clarkston on Washington Highway 129 for 50 miles. You will travel through Asotin, then Anatone, down Rattlesnake Grade to the Grande Ronde River, then back up Buford Grade (crossing into Oregon) and the RimRock Inn is located 10 miles after the Oregon/Washington border at milepost 10. We are ¼ mile South of the Flora Junction.

By Motorcycle
The curvy route over Rattlesnake Grade is especially popular with riders where scenic vistas abound and cars don't. The RimRock is the perfect oasis after the thrilling ride.
By Plane
If you are a pilot and you love to fly to out-of-the-way places, the RimRock Inn is the perfect destination. There is a public-use airstrip located 5 miles away in Flora, Oregon. Call ahead to let us know when you will be landing, then buzz the restaurant on your way over and we'll come pick you up!
Here are a few specs about the airstrip.
Length: 2700 feet
Width: 40 feet
Surface: mowed grass
Condition: some dips and high spots, no potholes
Elevation: 4398
Location: 45.9 N / 117.29 W
Ground reference: Look for the small town of Flora, located right there!
By Helicopter
This is the most direct route to the RimRock Inn! Talk about wide open spaces, we've got 'em! You can land right next to the RimRock in our huge open grassland, walk up the deck stairs and find yourself in our dining room. Yes, it has been done, and with ease!
Stay With Us!
The OLD RimRock
The Old RimRock in Rural Northeast Oregon!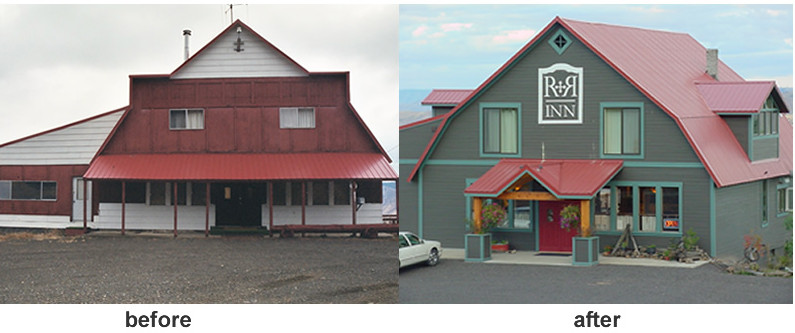 If these walls could talk you'd hear quite a yarn about the Rimrock's colorful history. Once a favorite stop for weary stagecoach travelers on their way to Lewiston, Idaho, it later housed a popular dancehall upstairs with quaint country shops below. The beautiful hardwood floors still grace what is now a lovely renovated loft apartment where the current owners live.
Eventually, long time owners Loren and Wilma Raymond transformed Rimrock into a popular eating establishment which featured fresh homemade pies and delicious grilled steaks- a tradition which continues to this day!
The ambiance and beauty of Rimrock owes much to the contractor, Darrell Brann, who had a vision for how it should look and feel. His genius allowed us to salvage everything from the huge planks which were refurbished to be used as our bar top, to the coils from the original freezers which can be seen in the stall partitions that separate the booths.
Please feel free to view our Photos Page for a visual history of the evolution of our wonderful building throughout the years.
Stay With Us!
Reviews
RimRock Inn is proudly featured in A Chef's Bounty: Celebrating Oregon's Cuisine (by William King – Fall 2007), the first cookbook in the Chef's Bounty series, offering readers an invitation to bring the agricultural bounty of Oregon into their kitchens. The cookbook celebrates Oregon chefs and restaurants committed to using Oregon agricultural products and bringing a seasonal, local menu to the table. Look for the cookbook on costco.com. RimRock Inn photos on this page are by Rick Schafer (c) 2007 for A Chef's Bounty.
---
The RimRock Inn received the Wallowa County Chamber "Red Carpet" Award on August 1, 2008. The 'mystery shopper' wrote: "The manager and chef came to the dining room. They took the time to stop at each table to visit with their customers and ask about how they liked their dinner. This is an exceptional business in both food and service."
Look for the RimRock in The Great Towns of Oregon: The Guide to the Best Getaways for a Vacation or a Lifetime (by David & Joan Vokac - August 2005).
"RimRock Inn is the most remarkable dining destination in Northeastern Oregon. Updates of American classic entrees and a specialty dish each evening are skillfully prepared from scratch with quality ingredients. The homemade pies from fresh seasonal fruits are a perfect finish to 'fine dining on the edge.' A handsome old roadhouse has been transformed into an upscale dinner house where tables set with full linen and candles overlook a panoramic view of immense Joseph Canyon."
---
Tidbits … Did You Know? Column in American Profile magazine also featured the RimRock on November 24, 2007.
"The Joseph Canyon Viewpoint is part of Nez Perce National Historical Park, a collection of 38 sites across Idaho, Montana, Oregon and Washington. The recently restored RimRock Inn Restaurant, near Enterprise (pop. 1895), perches on a site overlooking the canyon not far from the viewpoint, offering dining, camping in authentic tepees, and recreational vehicle sites from May through November."
---
Travel Oregon magazine - Field Notes Section, 2007
Feast for the Senses. The RimRock Inn Restaurant (541.828.7769, www.rimrockrestaurant.com) sits dramatically on the edge of the 2,000-foot-deep Joseph Canyon near the eastern Oregon town of Enterprise. Built in 1940, RimRock was recently restored right down to the original plank walls. Everything on the lunch, dinner and dessert menu is seasonal and deliciously made from scratch. The best part: an outdoor deck that overlooks the enormous canyon.
---
Accolades Galore!
We are proud to say we have been featured in the following places:
"1859 Magazine"
"Parent Map Magazine"
Eastern Oregonian Visitors Association Blog
"Seattle Post Intelligencer, "Unusual Northwest Getaways"
"The Oregonian" Gerry Franke Travel Column,
"Lewiston Tribune" Arts and Entertainment
Boaz Frankel's, The Pedal Powered Show
Stay With Us!
Press
Folks are buzzing about the RimRock Inn for a multitude of reasons! See below for our most prominent press mentions.
Eastern Oregon Visitor's Guide 2015
A fantastic write-up called "View With A Room" just appeared in the latest Eastern Oregon Visitor's Guide - we're thrilled!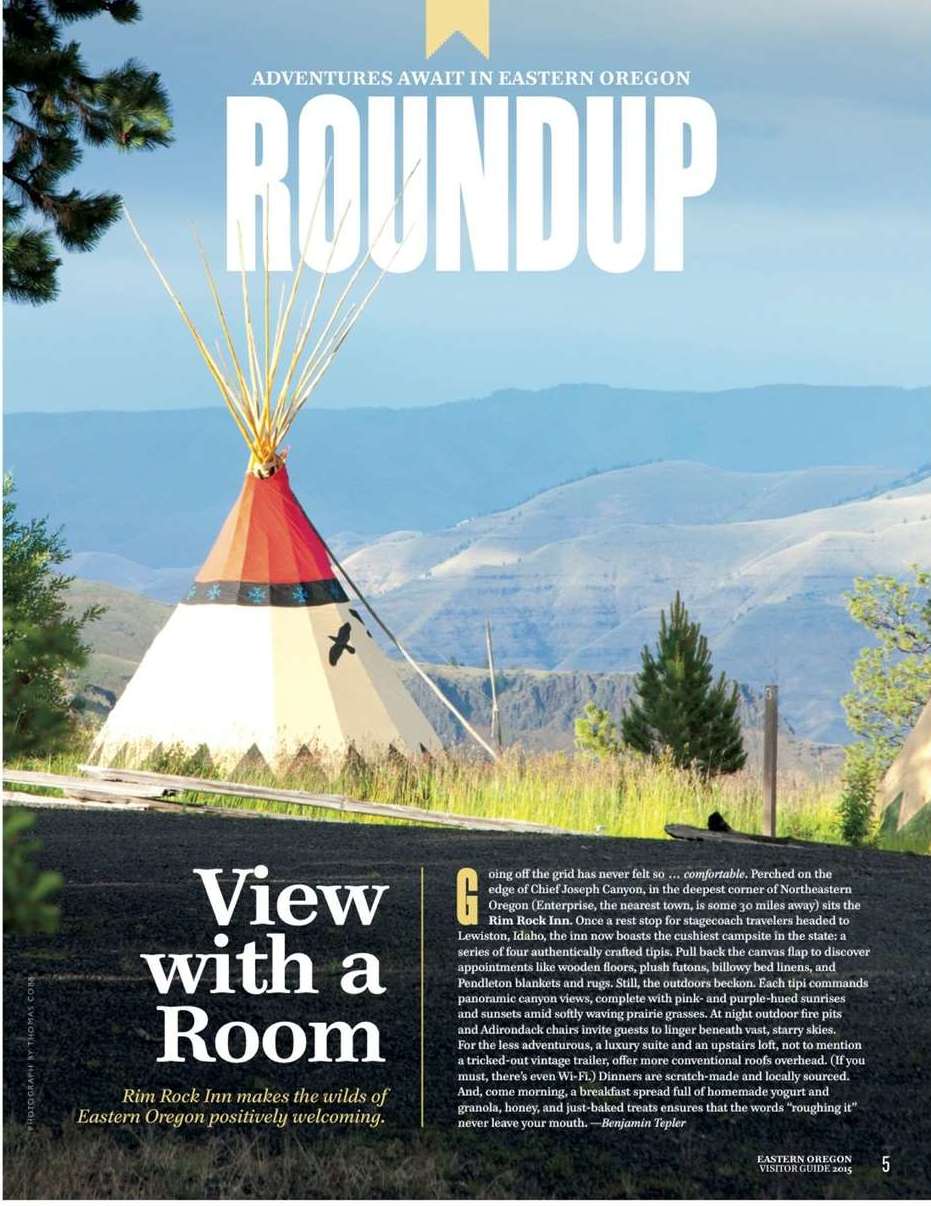 ---
More Love From Eastern Ore. Visitor's Association
Our winemaker dinners are featured in the Eastern Oregon Visitor's Association quarterly newsletter! Click the link for the full article. See below for the clip.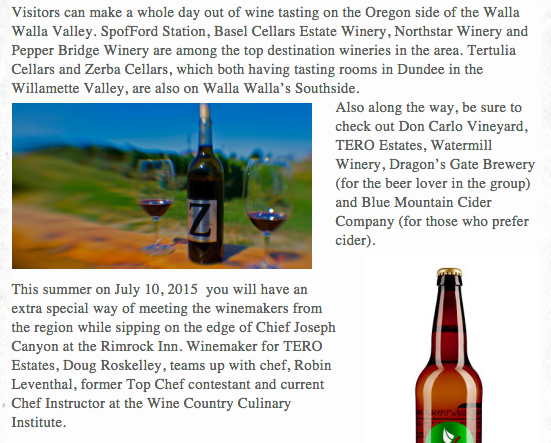 Stay With Us!
Activities
Our guest are those who love the great outdoors and who aren't afraid exploring an old country road or scenic drive. First and foremost, guests often travel to Wallowa Lake, just 45 minutes from the RimRock Inn. You'll go through the quaint towns of Enterprise and Joseph, and both have cute boutique and small, cozy dining choices.
Stay With Us!